The fabric and supplies you use to make your backpack will affect the ruggedness of the backpack and how it can be used. A backpack used to carry a few light things does not need heavy-duty materials while a backpack used to carry heavy books or camping supplies will need to be made from strong materials that will not wear through frequent strain.
The Fabrics
This pattern calls for Duck or Nylon Packcloth. Duck is a heavy-duty type of canvas. If you are not planning on using the backpack to carry heavy items then lightweight canvas or heavyweight twills could possibly be used, but they will not hold up as well. If you need a heavy-duty backpack then packcloth is the best material. Some are even waterproof. Packcloth is made from a 400 Denier high-density nylon fabric. For the bottom of the back, I recommend the 1000 Denier Nylon fabric which is thicker and holds up better. High-end backpacks always use a heavier denier fabric for the bottom of the backpack.
Where to Buy the Fabric
Duck can be found at many fabric stores that carry upholstery fabrics. I have seen Duck at Jo-ann Fabrics and even Walmart.
Packcloth is a little trickier to get a hold of. I was only able to find it online but I only have access to quilt fabric stores, Jo-ann Fabrics, and Walmart. I bought all my packcloth from Rockywoods, but I have also got swatches from the other places listed below.
The Padding
There are several types of padding that can be used: high-density foam, headliner or NuFoam. There are probably other types that I have not tried yet. I will go in-depth about each padding and how is sews, as well as when each one is best used on day 8 of the sew-along.
Zippers
You can purchase pre-cut lengths of the zipper but trying to find a dual slide zipper, with the slider pulls meet in the middle, that is 28″ can be tricky. Most of the 28″ dual slide zippers are made for coats so the zipper slider pulls are on opposite ends, which doesn't work for a backpack. You could install a zipper with one pull slider but then when the bag is closed the pull will be near the bottom of the bag on one side making it hard to find. If you prefer a 2-pull slider zipper then I recommend buying a zipper by the yard. It is easier to sew and you have more selection over zipper types. I bought my zipper from Rockywoods. I used a #5 nylon coil YKK zipper with #5 YKK metal slider with single pull for coil zippers. I have also used #8, but you have to make sure you get the correct pull slider for it.
On day 5 of the sew-along, I will have detailed instructions on how to use the zipper by the yard.
Bias Binding
You can use premade double-fold bias tape that you can buy at the stores. I used it on the interior of my duck backpack. However, it may not work as well for packcloth backpacks. For my packcloth backpacks, I made my own bias tape using Oly*fun for the interior and contrast 1 for the straps. I will go into detail on how to make the bias tape on day 4 of the sew-along.
Nylon Webbing and Hardware
Nylon webbing is used for the adjustable straps and for a handle at the top of the bag. I recommend heavy-duty webbing, I have seen some webbing so thin it's almost like ribbon. I prefer using flat nylon webbing from StrapWorks. I have also used webbing from Jo-ann Fabrics and Rockywoods.
You will also need strap adjusters that fit the webbing. I also buy my strap adjusters from StrapWorks, but I have also bought them from Jo-ann Fabrics.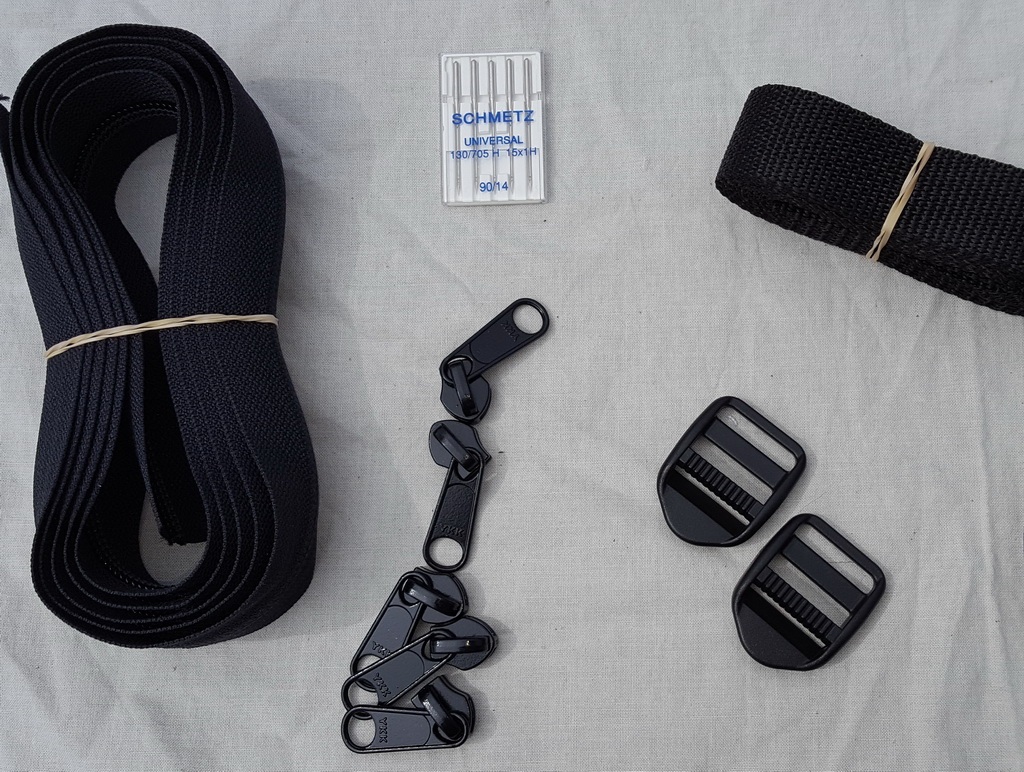 Needles and Thread
I made my first backpack using standard Gutermann polyester thread and a 90/14 needle. The next time I sewed a backpack I used Gutermann TERA 40 Nylon thread and a Microtex 90/14 needle and it was easier to sew and had stronger seams. The thread is thicker and looks great for topstitching.